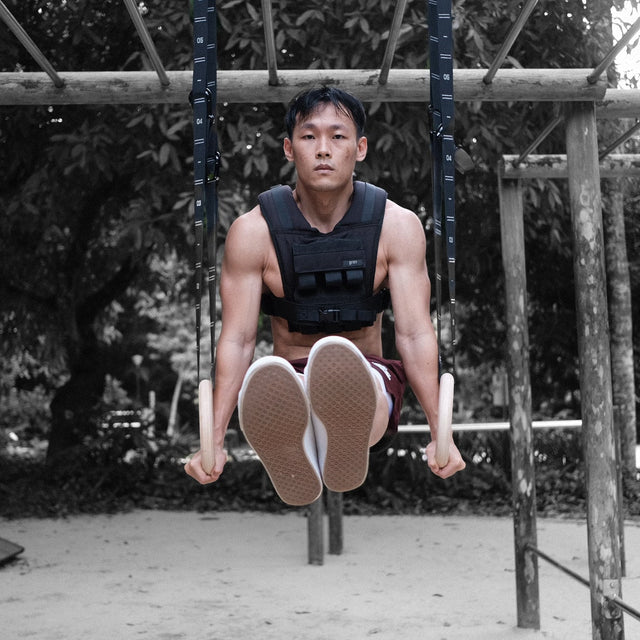 Embark on a calisthenics adventure with Grav Gymnastic Rings, your trusty sidekicks for everything from pull-ups to handstands. Say adios to the eyeball method and strap-adjusting nightmares - just hook our heavy-duty carabiners onto the numbered loops for a symmetrical setup faster than you can say "gravity defying."
FEATURES
- No more guesswork, quick adjustment for the exact same height symmetry within seconds for both rings
- Double layer strap made with high-intensity nylon with reinforced anchor loops
- Hiking-grade carabiners made with superior wear resistant zinc alloy
- Non-slip and anti-sweat rings made from treated Zelkova Sinica wood with a smooth sanding finish
- Neat and tidy that no excess strap that gets in the way
SPECIFICATIONS
Ring
- Material: Zelkova Wood
- Thickness: 3.2cm
- Inner diameter: 17cm
- Outer diameter: 23.5cm

Straps
- Width: 3.7cm
- Length: Total at 265cm, maximum usable length at 245cm
- Numbered loops: 22 loops
- Distance between loops: 10cm
ASSEMBLY INSTRUCTIONS
Ultimate strength powerhouse you can bring anywhere.
---
Perfect alignment in seconds
Achieve perfect ring height symmetry in a snap, leaving the guessing game in the dust. Hook our heavy-duty carabiners into the numbered loops and voilà - hassle-free adjustments quicker than your last workout-induced muscle cramp.
Straps so strong, they're almost showing off
Our double-layered nylon webbing straps don't just walk the walk, they talk the talk. With reinforced anchor loops, these bad boys offer enough support for even your wildest workout dreams. Durability? More like invincibility.
Ready for anything, just like you
Made with wear-resistant zinc alloy, our hiking-grade carabiners laugh in the face of corrosion. Rest assured knowing your Grav Gymnastic Rings are locked and loaded with the best of the best.
Because clutter is so last season
Say sayonara to excess straps getting in your way. Our Grav Gymnastic Rings keep things neat, tidy, and distraction-free so you can focus on what really matters - becoming a calisthenics legend.
Hang tight: All the FAQs on our gymnastic rings
What can you do with these rings?
Oh, the possibilities are endless, my friend! Our gymnastic rings are perfect for calisthenics, body-weight training, and impressing your friends. Push-ups, pull-ups, dips, handstands, and even the elusive skin-the-cat—you name it, these rings can handle it. Say hello to functional fitness, cross training, strength training, and conditioning!
I can do push-up just fine on the floor, why rings?
Bored of the floor? We feel you. With our gymnastic rings, your push-ups will never be the same. Say goodbye to up-and-down monotony and hello to a thrilling blend of horizontal and vertical forces. More muscle activation? You bet. Better coordination and strength gains? Absolutely.
Wooden rings vs. plastic rings?
Wooden gymnastic rings are better than plastic because of their durability, and they feel good to grip. In addition, there's a great grip on these rings which is very necessary for balance in certain advanced moves. For beginners, the material doesn't have to be too important as long as it allows you to complete basic exercise swings - but if you can afford wooden gymnastic rings they'll last much longer with regular use.
Are gymnastic rings just for the pros?
Nope! Our rings are perfect for beginners and advanced fitness fanatics alike. With an array of beginner-friendly exercises and less joint strain than static bars, there's no reason not to give these rings a spin.
Where should I hang my shiny new rings?
Get creative! Doorways, pull-up bars, tree branches, or even balcony beams—all make great homes for your gymnastic rings. Just make sure it's sturdy and secure.
Can gymnastic rings build muscle?
You bet your soon-to-be-buff biceps they can! Gymnastic rings are muscle-building machines. They engage muscles throughout your body, improve mobility, and offer a range of motion you won't find with other equipment. You'll be flexing with pride in no time.
What makes these rings better than the rest?
Well, not to brag, but our rings are incredibly durable, and they won't snap like the cheap knockoffs. Plus, our easy-to-adjust double-layer strap is a game-changer. No more fumbling with height adjustments mid-workout.
How do I keep my rings in tip-top shape?
Treat 'em with care! Store your rings indoors, away from sunlight, and give them a good wipe-down after each use. They'll reward you with years of gravity-defying fun.
Shipping & Return?
Shipping
Delivery takes 3 to 10 business days.
Returns
If any item(s) you have purchased is not to your liking you can return them to us within 30 days for a refund or an exchange. Read more about refund policy.
Solid product.
I was skeptical that it would be run of the mill construction, but pleasantly surprised.
It's a GREAT product.
Great quality, very happy with purchase!
Very happy with this pair of gymnastic rings! They're very easy to set up and make height adjustments for different exercises. I have no doubt that these will live up to their lifetime warranty!
Fantastic quality
The quality of these rings exceeded my expectations, the length of the straps is more than enough, also the service at Gravgear was top notch.
Embrace the wobble
Think you've got what it takes? The Grav Gymnastic Rings offer an unstable surface that'll put your muscles to the test, forcing them to work harder than they ever have before. You'll be shaking like a leaf, but boy, will you be strong.
Summon strength you never knew you had
The Grav Gymnastic Rings don't mess around. Their demanding nature will make your form impeccably honest, and with that kind of integrity, you'll be recruiting more muscle fibers and building nerve adaption faster than you can say "gymnast physique."
All your muscles, all at once
Why settle for isolated exercises when you can work your entire body simultaneously? Grav Gymnastic Rings challenge every muscle in your body, from head to toe. Get ready for a gravity-defying, coordination-requiring, and agility-demanding full-body fiesta.
Pull-ups without the ouch
Ditch the boring, straight bar pull-ups that wreak havoc on your joints. Grav Gymnastic Rings allow for a natural range of motion, keeping your joints happy and your progress on track.