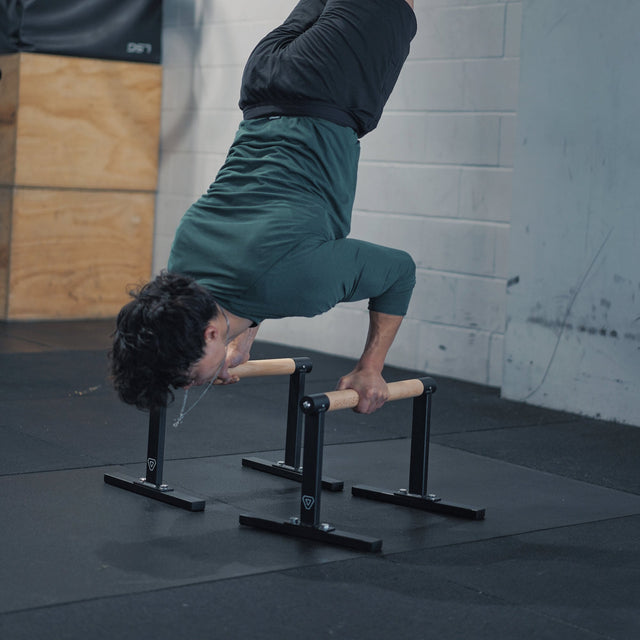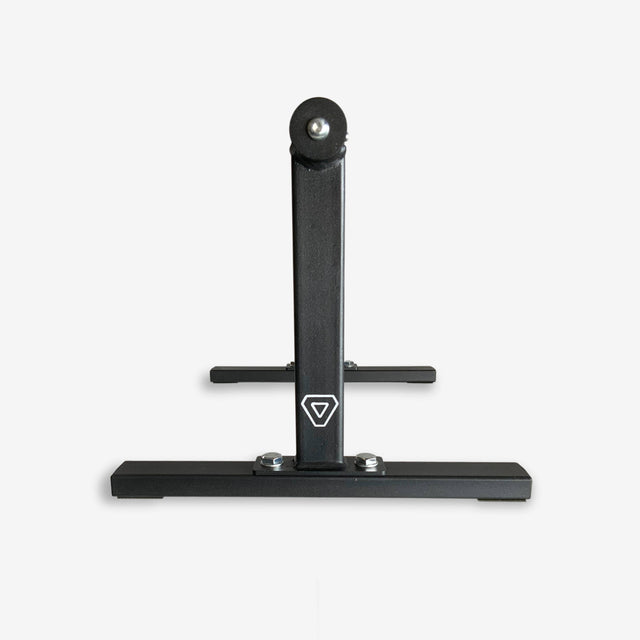 Unleash greater performance by working with a greater range of motion.
Say goodbye to wrist pain because the parallettes put the wrist in a natural position.

Get the best of both worlds by combining a birch wooden handle for a strong grip, and a metal body for extreme durability.
Loved by calisthenics athletes in Australia and the world.
FEATURES
- Improve your performance with exercises like push-ups, handstands, and more.
- Perfect grip by birch wood handle with a smooth finish. No more chalking.
- Built to last for ages thanks to the solid steel base.
- Invisible anti-slip patch at the bottom for a steady stance.
- Healthier wrist joints and lesser pain.
- Withstand up to 300kg per pair.
- 2 minutes assembly so you can start a workout in no time.
- Easy to carry. Workout anywhere anytime.
SPECIFICATIONS
+ Parallettes dimension (LxWxH): 40cm x 34cm x 30cm / 15.7" x 13.3" x 11.8" + Wooden handle usable length: 37cm / 14.5" + Wooden handle diameter: 4cm / 1.5" + Total weight of a pair: 6kg / 13.2lbs
ASSEMBLY INSTRUCTIONS
Elevate your calisthenics game.
---
Thick and well-sanded wooden handle for the best grip. Beats metal bar any day any time.
Birch Wood Bar
Perform any bodyweight skills on parallettes to ease the stress on wrists.
Elevate Your Calisthenics Games
Anti-slip patches on the bottom for a super strong stance.
Never Slide
Metal frame provides the sturdiness to last the long haul.
8 Screws. 4 Legs. 2 min installation.
Complete your collection.
Why settle for just one when the full set brings unparalleled dynamism to your workouts? Embrace the comprehensive strength of the Prime's elevation, the precision of the Range's length, and the portability of the Edge.
Together, they form a trio that's not just complementary, but transformative.
Get parallettes full set
Quality parallettes
Parallettes are very well made and extremely sturdy.
Exactly what I wanted and expected.
Amazing Quality
Spent a while looking for a set of parallettes that wouldn't become unstable after using them. These are as solid as you can get and the wooden grips make them super comfortable to use
Aesthetically sturdy
Solid base with the right height to start off handstanding on parallettes. Versatile enough for my clients to train their push-ups and L-sits too.
Elevate your hand position from the floor
They also introduce variation to calisthenics exercises. Variation is good for muscle growth. The elevated hand position means you can do push-ups with lower depth than on the floor. Deeper stimulation to the chest and shoulder and bigger gain.
Giving you a neutral wrist position
Why does this matter? In calisthenics, you spend all your time on the floor (besides on the bars and rings) doing all kinds of pushing exercises like push-ups and handstands. Parallettes put your wrist in a straight posture so you don't have to press them hard on the floor. This will greatly reduce the risk of injury especially wrist is not your main training target.
Make certain workouts easier
L-sit is a great example. Doing l-sit on the floor is a lot harder than on a pair of parallettes, because that movement requires strong abs and hip flexors. The elevated body position allows you to hold a not-so-strict L-sit as your legs are dropping.
Best grip and durability
Nothing beats the wooden handle for a perfect grip. It absorbs slight moisture from your palm's sweat and maintains the grip throughout the whole workout. There is no need for chalking and taping. The metal body provides superb stability that is going to last decades. Now you don't have to worry about safety while practicing the skills you always wanted.